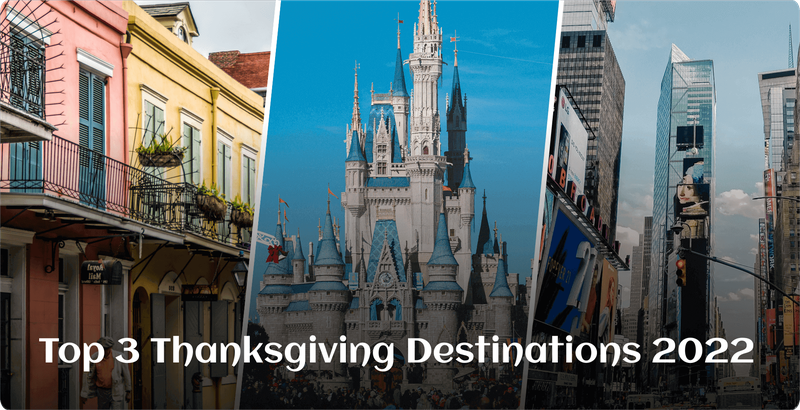 Thanksgiving is the best time to add new moments to the treasure of your memories. If you haven't made your plans for Thanksgiving yet, here are the best three destinations for the Thanksgiving holidays in 2022.
1. Orlando, Florida
Make thanksgiving more fun with joy rides!
Theme parks entice kids and adults alike, making Orlando an ideal destination to spend a wonderful time with family and friends. It is one of the most visited Thanksgiving destinations. Some theme parks even have extended hours to cater to the massive crowds. Additionally, Disney World offers a variety of Thanksgiving dinner options available at Downtown Disney as well as at several of the Disney resorts, so you won't have to skip the traditional meal.
Thanksgiving week is one of the busiest weeks of the year at Walt Disney World and Universal Studios. So, book your flights to Orlando well in advance.
2. New York City, New York
Be a part of 2.5 miles of public viewing along the NYC route in 2022!
For an authentic traditional Thanksgiving experience, visit New York City, famous for Macy's Thanksgiving Day Parade. This annual pageant is an eye-catching event made-up of massive balloons, floats, cheerleaders, marching bands, clowns, Broadway performances, and celebrities. You can also book a hotel near the parade route so that you can witness the celebrations whilst enjoying a comfortable stay.
If you are a shopaholic, make your Thanksgiving holiday more exciting by extending your stay. The next day, Black Friday, businesses in New York start their holiday sales.
Note: The parade attracts thousands of participants and millions of spectators, besides more than 50 million viewers that watch from home. Don't wait for last-minute deals. If you'd like to enjoy Thanksgiving dinner at a restaurant in New York City, you'll need to make your reservation well in advance. Also, book your flights to New York in advance.
3. New Orleans, Louisiana
Enjoy the spectacular parade followed by a palatable aroma of the Turkducken in New Orleans!
The Bayou Classic is a fantastic Thanksgiving Day Parade you may watch in New Orleans. Also, attend Celebration in the Oaks, a New Orleans holiday family tradition, an incredible light festival.
New Orleans is synonymous with partying and fabulous food, so it's no surprise that it's one of the favorite destinations of gourmands for the Thanksgiving holiday. Renowned widely for crawfish and po'boys, New Orleans is also home to the modern Thanksgiving tradition- Turkducken. Enrich the experience of the Thanksgiving feast with the triple-poultry dish prepared by stuffing chicken into a duck, and the duck into a turkey.
The city remains crowded during the Thanksgiving weekend. It is advised to book your flights to New Orleans in advance to avoid last-minute hassles.
Book the flights 3 months to 3 weeks in advance
Compare the flight deals offered by various travel websites