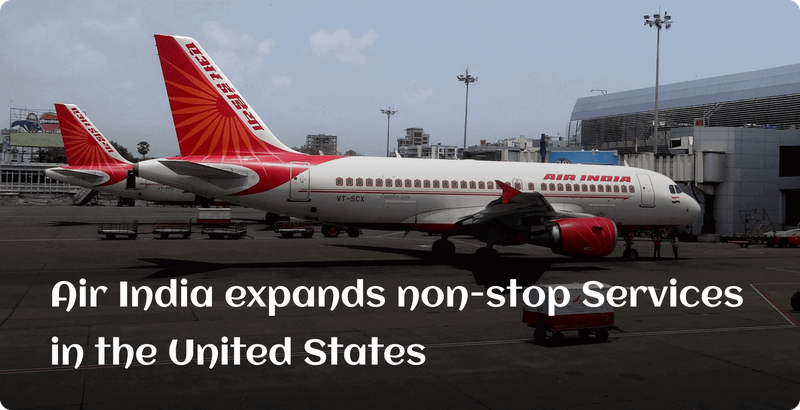 Air India is expanding its services in the United States. The airline leased 30 new aircraft to boost its operations worldwide, which includes adding 11 new routes from Mumbai and Bengaluru to the US. The new aircraft will increase the airline's fleet by more than 25%.
"These new aircraft, together with existing aircraft being returned to service, address an immediate need for more capacity and connectivity, and mark a strong step forward," Air India CEO and MD Campbell Wilson said. "Air India has exciting expansion and renewal plans, of which these new aircraft are just the beginning."
Introduction of new AI flights from Mumbai to San Francisco and New York
The Tata Group-owned carrier will start non-stop flight services on the Mumbai - San Francisco route on December 15, 2022. Flights have been scheduled for thrice a week. The planned start date and frequency for New York are yet to be announced.
Air India Resumes the BLR - SFO flights
Air India's nonstop service from Bengaluru to San Francisco will resume on December 02, 2022. Flights have initially been scheduled for twice a week, which will later be increased to three rounds a week as planned.
Air India- North America Flight Planner for Winter 2022-2023
Air India already has 6 India-US routes in its network, flying from Delhi to Chicago O'Hare, New York, San Francisco, Washington Dulles, and Newark, alongside its Mumbai-Newark service. Check its winter planner below:
Routing -Weekly flights this winter -Aircraft
Delhi to San Francisco - 10x weekly - B777-200LR
Delhi to Chicago - 8x weekly - 7x B777-300ER, 1x B777-200LR
Delhi to New York JFK - 7x weekly - (1x daily) B777-300ER
Delhi to Toronto - 7x weekly (1x daily) - B777-300ER
Delhi to Vancouver - 7x weekly (1x daily) - B777-300ER
Delhi to San Francisco(resumes December 2nd) - 3x weekly - B777-200LR
Delhi to Newark - 3x weekly - B777-300ER
Delhi to Washington Dulles - 3x weekly - B787-8
Mumbai to Newark - 3x weekly - B777-300ER
Mumbai to San Francisco(begins December 15th) - 3x weekly - B777-200LR
Hyderabad to Chicago - 1x weekly - B777-200LR